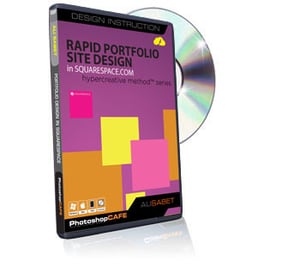 $

49.00
Build a killer online portfolio
When it comes to getting work in the creative industry, nothing speaks louder than your portfolio. If you are a designer or photographer, you must have an online portfolio to display your body of work. Ali Sabet, explains the strategies and techniques needed to have a successful online portfolio using the site Squarespace.com. With Squarespace, you can literally have a killer portfolio site online within minutes. Learn how to set up and organize the look and feel of the site as well as attaching plug-ins that allow you to share your images on social networks, set up feedback forms and much more. With just a few strategic drag and drops you can be up and running right away.
As simple as drag and drop you can look great fast!
A fun and easy way to display your work on the world-wide web!
This fast loading DVD ROM contains 1 hour of sharp video. The advanced interface allows the user to instantly jump to any of the lessons with complete control over the playback including full screen. All the lesson files are included, so you can follow along at your own pace!
The Author
Ali Sabet (www.sabetbrands.com) is a designer, illustrator, branding consultant and fine artist. He earned his BA from California State University Fullerton. In 1999 he was an Art Director at Foote, Cone and Belding (now DraftFCB). He learned a ton in a short amount of time, mainly that the big agency life wasn't for him.
Ali went on to establish Sabet Brands. He has since spear-headed several national branding campaigns and helped sustain hundreds of brands over the past 12 years. He draws for a living and his passion for art is as stong today as it was when he first began. In addition to creating illustrations and logos, Sabet founded the leading online Character community, Mojizu.
Ali Sabet has had the pleasure of working with some of the most talented entrepreneurs of our time. The process of working with these amazing people ensures his growth as a consultant and a human being.
Lessons Include:
A Designers Prespective
photographers portfolio.
Squarespace Portfolio Sample Reviews
HCM Overview What is Squarespace?
A Walk Through Of Squarespace.com
Your Logo Banner
Your Photos and Content
Sign Up
Website Settings
Select Your Template
Naming Your Template
Page Layout and Width
Text, Font and Color Changes
Pages,widgets and galleries
Add Text and Image Content
Embed Videos
C-Name and A-Record
Analytics overview
Account center and support